TRI-COUNTY ACADEMY ALUMNI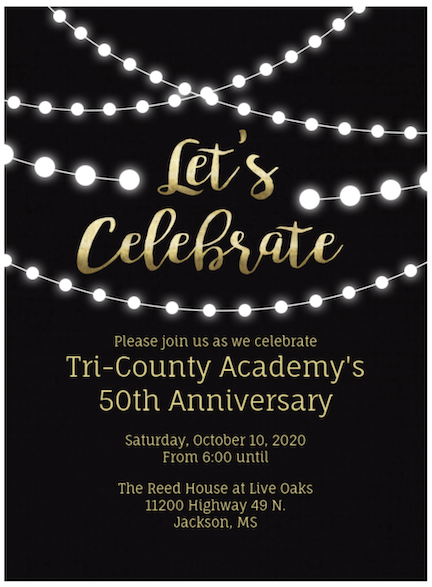 We would like to take this opportunity to celebrate with you 50 years of excellence at Tri-County Academy. In order to strengthen our foundation, we will be providing information and opportunities to join our TCA Alumni Foundation.

Ticket pricing - $50 per person
Tri-County Academy | 400 Cox Ferry Road | Flora, MS 39071
Please RSVP by September 30, 2020
TEXT Christy @601-497-6236 | Give the number of guests to attend and make a dinner selection for each attendee.
Prime Rib Or Chicken Cordon Bleu
Itinerary 6:00 pm - Cocktail Hour *
7:00 - Dinner Catered by Two Rivers
Entertainment From 8:00 -11:00 pm by Meet the Press
All Cash Bar * | Cocktail Attire | Must be 21 to attend

Tri-County alumni are an important part of the Rebel community. Memories of your time together last long after you have taken off the cap and gown.
We are in the process of creating an Alumni Association. Please help us grow our data base and keep our records current. Click
HERE
for instructions on how to add your information into our system. We want ALL of our Alumni to be informed of the great things happening at Tri-County.

TRI-COUNTY ACADEMY ALUMNI ATHLETES
Mississippi State University
University of Mississippi
University of Mississippi
Mississippi State University
Coahoma Community College
Meridian Community College
Mississippi State University
Mississippi State University
University of Louisiana Monroe
University of Southern Mississippi
Mississippi State University
Mississippi Delta Community College
Northwest MS Community College
Southwest MS Community College
If you know of a Rebel athlete that needs to be added to this list or should you find incorrect information please contact Lou Ann Woidtke @ louann@tricountyacademy.org.